Full family trip to Nevada City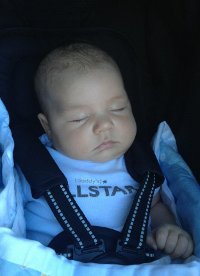 My day in
Nevada City
started off with yelling at Rand Miller for not updating
his blog
. It's like he thinks that because he's doing it for free and fun he doesn't have an obligation to entertain us. Selfish bastard.
Next I heard
Roman
call his wife, "Sugar." I thought that was unique and worth sharing.
Somebody started talking to me about
Race Shape
at the start. I always like to talk shop, but was a bit distracted by a race starting in 30 seconds. Sorry, send me an email.
Then we raced bikes. Lots of laps.
Nate
got off the front with
Stephen Leece
. I yelled at
Chris Stastny's
dad in Czech for not giving me a bottle. Insert derogatory stereotype here.
Later when Nate was about 30 seconds from lapping I dropped back to help him out. That was a good idea in theory but Nate didn't really need my help. We got back up to the field just fine. I messed around in the sprint and was 8th, again.
Lots of people came out to the race and there was a pretty good "Paul Mach dot Com" cheering section. Thank you very much.
After the race I chatted with Rich Paul, from
Velo Reno
. I'm ashamed to admit that I always forget his name. I mean, I should be able to remember a name like that.
So, another Nevada City in the books. This was my 5th one and you can read about all the others in the archives (
2008
,
2009
,
2010
,
2011
).
Comments