There's no racing like bike racing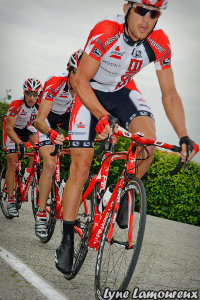 12 days on the road and I'm happy to be on my way home. There's just something about home that doesn't compare to the Good Night Inn.
Well, the
BISSELL team
had a couple of hard fought, drama filled days to round out
The Redlands Bike Classic
. We definitely raced for the win and it's always better to race than sit back and still get second.
The crit was highlighted by
Ben JM
taking 3 bonus seconds and Fransisco Mancebo taking 2. The team lined it up to bring back the break and lead Ben out for the line. There was a bit of confusion because there was a "Sprint Bonus" lap right before the "Time Bonus" lap. Mancebo won the first one and Ben the second.
After that, the two were tied on time. The officials told us Ben had the lead, so we took control. 25 minutes later they changed their minds and all 8 of us swung off the front. The resulting chaos was pretty funny.
For Sunday's circuit race we decided to take the bull by the horns. We lined it up from the gun for the bonus seconds the first time up the climb. Ben delivered so we stayed at the front.
But the attacks never stopped. People were even asking us to move so they could attack and then getting mad when we didn't. I'm not really sure what the deal with that was. Anyway, I cracked early, about 6 laps in.
Bonus second were available before the finishing circuits. Without much help from us, Ben was on his own. Mancebo took the seconds he needed and secured the win. And that was the race.
Sunday featured some of the most dynamic, aggressive racing I've seen. I'm happy to have been a part of it and I'm excited for the rest of the season.
And now what you've been reading for, news about
The Paul Mach Gift Certificate Challenge
. This morning I generated a random winner and it was Greg from Davis, CA. Congratulations, I'll email you tomorrow.
The contest generated about 20 new likes. As of this posting I'm tied with
Cody Tapley
. So if one more person could like
this page
, then balance will finally be restored.
Comments