The Paul Mach Blog is now on Kindle
Sunday, February 20, 2011 -
Tech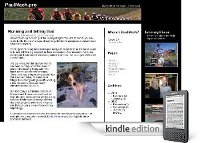 If you're a
Kindle
owner, it's time to rejoice,
The Paul Mach Blog
is now on Kindle. For a $1.99 a month, all the pictures and text you see here will be delivered to your Kindle for free!!!
I'm not exactly sure why you'd pay $1.99 to read something you can read on a smartphone for nothing. Maybe if you're overseas and don't want to pay high cellphone data fees? I don't know.
At this point you're probably asking why. Well, like a lot of the features on this site, why not? It actually wasn't that hard. I headed over to
Kindle Publishing
, reformatted a bit, and boom, done.
The real reason stems from something my Dad said when I was a kid laying around watching TV, "You know when you're watching TV you're paying those people. You should go do something so they'll pay you."
It took me a number of years to figure out what he actually meant, I think it was, "Instead of watching people do stuff, you should go do it yourself. You'll find it more rewarding." And that is something that has stuck with me.
So, instead of just reading other people's stuff on Kindle, I want people to be able to read my stuff too. Even if it's just on principle.
Now what happens with that $1.99? Well, I get a $1.39 after Amazon's cut. If, err, I mean when I make some money I'll donate it to a bike related charity. Because as you probably know, this blog isn't about the fortune, it's purely about the fame.
Update:
Amazon sets the price and it just got dropped to 99-cents. So get it today.
Comments