A day in Oregon and one in Washington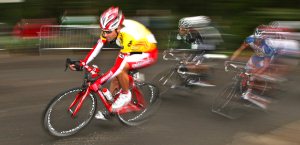 So, just a quick one on the
Mt. Hood Cycling Classic
...
Yesterday's circuit race in Portland, at Mt. Tabor, was a slip 'n slide. The roads were wet and had moss growing on them. Lots of guys went down. I manged to keep it upright, but I can't imagine what it would have been like in the rain.
My
Bissell
teammates and I spent most of the race getting double teamed by United Healthcare. It wasn't the most fun experience, but that's bike racing.
Morgan Schmitt
had an impressive ride, winning and taking the race lead. Morgan is a former teammate and how also a former friend.
Today we raced in Washington on the Mt. Adams loop. It was a beautiful course, I just wish I could have spent more time looking around.
It was a pretty typical start with lots of attacking. Towards the end the break was still a ways up the road and UHC was losing guys.
But since they'd used their numbers against us at Mt. Tabor and earlier in the stage, I was willing to let them use those same numbers to do their part controlling the race. That, again, is bike racing.
Rob and I both finished in the first group. Thus, we still have good position for tomorrow's time trial that will decide most everything. So I guess that means the pressure is on?
Comments