Awesome displays of power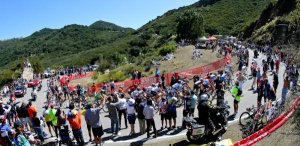 Tour of California
stage 8 was an up the hill, down the hill, kind of course. I usually like those, well, unless Garmin lights it up the first lap. Their little display of power was a bit unexpected and I got dropped near the top.
However, I wasn't the only one and found myself in a nice little chase group after the decent. There were about 15 of us, but at the front it was
Fabian Cancellara
,
Andy Schleck
,
Jens Voigt
and Paul Mach. That's right, 4th wheel behind the Saxo boys.
Only one word can describe that, "Sick!" The whole time Fabian was flooring it I was smiling and hoping someone had their camera out.
I held on to the front group till the last lap and finished about 2:40 down. Technically only 35 people finished the race but for some reason they extended the time cut.
That was a bit lame because I worked hard to stay in the front group. Plus, some of those dudes bumped my teammate, Jeremy Vennell, out of the money.
My wife had an up and down day as well. First, she missed
Patrick Dempsey
taking a leek in our RV. But then she got a ride in the
Bissell
team car with Eric Wohlberg.
All the caravan craziness was making her tense so Eric tried to calm here down, "Relax, unless I pull the e-brake, then we're in trouble."
After the finish some lady kept asking me what I thought of the Santa Monica Mountains and if the flowers were beautiful. Look lady, I don't know, but the rear hub of the guy in front of me was black and had a neon-green zip-tie around it.
Anyway, the Tour of California was a lot of fun, big crowds and great racing. Now it's time for some recovery and then on to the rest of the season.
Comments