Tell me again why the race moved to May?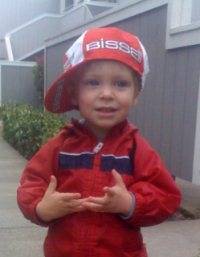 A lot happened today. It started with a warm reception in Davis. Thank you all for the cheers, it was very cool.
I would like to highlight one person, Musa. His defaced
RadioShack
sign now reads, "I ride with
Bissell
." I've seen so many of those stupid things out on the road.
As for the stage wrap up, I missed the break, I was up there, but it was not to be. Yesterday the climbs helped, today there were none. Thus I lost the KOM jersey. Not a big deal, I was just happy to wear it for a day.
The racing started in Napa where it was raining. I got a jacket and just tried to stay warm. When the Oakville climb came up I was still freezing and not in race mode. That put me at the back.
Just missed the front group but chased back on before Trinity and was a bit off the back at the top of that one too. The decent off of Trinity was cray cray. It seemed like there was a body in every corner.
I was lucky to make it down alive and chased back on just after the decent. I was the only Bissell guy to finish in the front group of 27. Unfortunately, I passed 3 of my teammates who were on the ground. So while it ended up being a decent day for me, it was not for the team. Everyone is okay and will race tomorrow.
And it looks like
Brian Holcombe
of Velonews has made up for that collegiate nationals preview article by writing a
sweet little thing
on me. Okay, you're forgiven.
Comments