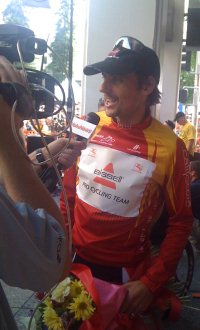 Boy am I glad I shaved my legs this morning.
Versus
in HD sure does pick out all the flaws.
So, I had a good day. I made the break at the
Tour of California
and snagged the KOM jersey for my efforts. Very very happy about that. It's a huge result for me and getting to wear the jersey in Davis will be extra cool.
I'm sure you can read all about the race on the internet somewhere, so I'll just list some disconnected thoughts.
On the first neutral lap,
Jens Voigt
flies to the front and says to Fabian, "Man, I just had to go hard up the hill to get up here and I'm tired." Sure you are Jens, sure you are.
In the break, Maarten Tjallingii of
Rabobank
said, "They'll keep us at 5 minutes if we go hard or slow, so lets just go easy." That is so anti-american. Here we work hard because everything is achievable, even holding off a chasing peloton.
On the climb I wasn't sure if I missed the 1k to go sign so when I heard some guy yell, "It's a half mile to the top," I waited, attacked, exploded and then finally saw the 1k to go sign. Obviously wasn't a
PaulMach.com
reader, because you're smarter than that.
Got the super love from the
UC Davis
guys today. Just want to say a big thanks to everyone who sent me messages, much appreciated.
I'm currently leading the California Cup, so ball's in your court
Levi
.
The crowds were crazy and got bigger and bigger as we got to Sacramento. Never before have so many people cared about cycling.
About the mustaches. It's an intra-team contest and there will be a vote for prizes on the
Bissell Cycling Facebook site
after the race. We're also doing it to raise awareness of our supporting sponsor,
Ronald McDonald House
.
I have data from the race today and it's
pretty interesting
.
As for tomorrow, I'll tell you what I told
Velonews
. I'm just going to go race my bike.
In other news, my
first bike
had a bad crash in the
Sacramento Grand Prix
today. I'm a little sad, but it had a good life and saw enough miles for multiple bike lifetimes.
Comments