Racedata.paulmach.com: It'll blow your mind
"When did the break get all that time?" and "Where did I lose those 5 seconds?" are a couple questions I ask a lot.
Racedata.paulmach.com
is a web application I developed to find the answers.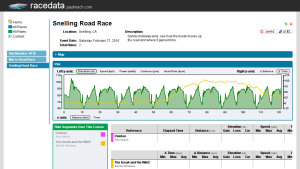 The general idea is if you have 2 GPS files, one from a rider in the peloton and another from the break, you can compute a time check every second. In a time trial, it's like the riders are side by side, giving you much more information than just the final time.
If you're interested in this kind of stuff, check out
racedata.paulmach.com
. There's no manual yet, so you're just going to have to explore. I tried my best to make it easy to use, but
there is a learning curve
.
While I've been working on racedata for over 6 months, it's still not perfect. For one, it doesn't work with Internet Explorer. All the other major browsers should work and I recommend
Google Chrome
for its speed. For two, all the values are in metric, ie. kilometers, so you're just going to have to deal for now.
Some races are obviously more fun to look at than others, I recommend:
The Gila Monster Stage - One can see exactly where Darren Lill attacks for the win and why he almost gets caught.
Merco Road Race - Ben get's gapped from the break and has to fight back over 30 seconds.
I have a few other races I still need to add and hopefully something cool will come of this California thing.
This site is still a work in progress so you can't upload you're own files just yet. But, if you're willing to share data from the last few NRC races, I'd love to include them.
And one last thing, if you have any feedback at all, I'd love to hear it. I haven't really shared this site with anyone until now, so I'm not sure of what the response will be.
Comments