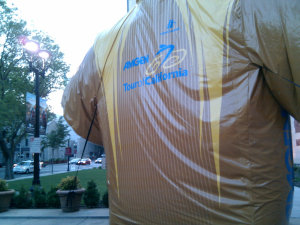 Levi Leipheimer
,
Lance Armstrong
, and a little
Andy Schleck
for the Euros. They're all in town for one thing, the
Tour of California
.
So yeah, the big show is rolling in and for the first time I get to be a part of it. Ever since I first saw the tour roll through Davis back in 2007 it has been a dream/goal of mine to be a part of it.
Anyway, I hope to be posting some updates here along the way, but realistically I may be a bit tired. So please excuse the loosely connected random thoughts that may follow in the next few days.
And here's something, did you know that each finish city is required to have two 24 hour laundry mats? Well, it's true, required by the good old AEG.
Comments