Sorry for the late update, it was a long night. We had a big dinner in Pebble Beach and the wine was flowing pretty loosely. Big thanks to Mark Bissell for that.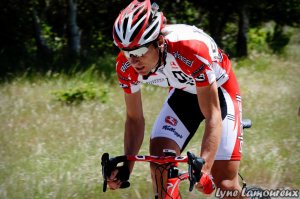 So I had a good ride at the
Sea Otter Road Race
yesterday. The basic run down is me,
Rob Britton
and two Yahoo guys got off the front a few laps in. Rob and I eventually set off on our own and rode to the line together. Rob was gracious enough to let me win.
After getting punked by Levi
last year
, it was a good feeling to finally take it. Plus a few years ago I won the Cat. 4 race so to come back and win the Pro race is pretty cool.
For those of you that don't know Rob, he's a hecka strong rider. He won the
queen stage
of Mt. Hood last year. I've had a few chances to ride the break with him and we always pull off some sweet team tactics.
Some people have asked if my new
Giro
sun glasses had anything to do with the win. The answer is: "Yes, they are awesome."
Comments