Jeremy Vennell's endless summer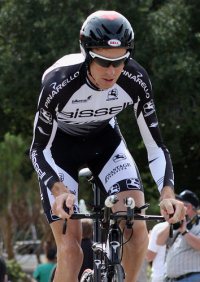 Back to the interviews. Today we have
Jeremy Vennell
. Why do you care? Well, because last year he won the New Zealand TT championship AND got married, all in the same week.
PaulMach.com:
Let's start with an easy one. How'd you get into racing bikes?
Jeremy Vennell:
Back in 2002 I saw the
Tour de France
on TV and was like, "I'm going to do that." I was at university and I sucked at it, so I dropped out to race bikes.
It was a life changing decision and when I told my parents they were like, "what the f***." But they still supported me.
Six months later I was to Europe. I was living in a small town in north Holland and racing for a Dutch amateur team. It was the hardest year of my life.
PM.C:
After a few years of professional racing in Europe you signed with
Bissell
. Why?
JV:
I think the racing in America suits me better. But I also only saw Anita (now his wife) for 3 weeks out of 10 months and I couldn't handle it. America is closer to New Zealand so it's easier.
Now we live in Santa Rosa during the cycling season and spend a few months at home during the winter. We're living the glory days of wine and roses.
PM.C:
And how do you spent your "glory days?"
JV:
I have a garden. I just recently purchased a truckload of dirt so I've been dealing with that. We hit up the restaurants and wineries.
I also love internet shopping, I love it. Clothing,
Zappos
because they do free delivery and a 365 day return policy. The other day I got a $5 pair of pants at the outlet stores.
PM.C:
Good to know. Every good New Zealand cyclist has a story about their national tour,
The Tour of Southland
. What's yours?
JV:
Something unique always happens at Southland. This previous year we had the biggest crash in history, everyone but 10 guys went down and those guys crashed 3 kilometers later. That was pretty funny.
I couldn't see it but it was the longest crash I ever heard, it lasted like 20 seconds. Some guy screamed, and I was like "holy sh**, people are dying all around me." It took 30 minutes to get everyone off the road.
And that is bit of Jeremy Vennell. If you're looking for a bike fit, ask for him at
Echelon Cycle and Multisport
in Santa Rosa. Tell him
PaulMach.com
sent you and he'll hook you up.
Comments