Holy mother of all things totally awesome!!!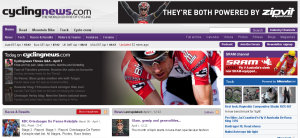 Boom! That is what the
Cycling News
website looks like right now. This is not an
April Fools
joke, my picture is on the front page!
For a moment I thought about hanging up the bike. I mean, how is one supposed to top that? Then I realized it was for an article on "Knee pain, sleep concerns, stamina and fat testing."
The story has nothing to do with me or
Bissell
or time trialling. It's just a random picture. But I'll take what I can get, for now.
Comments