What's more fun than spectating a triathlon?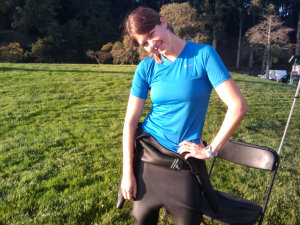 The wife and I spent last weekend in San Rafael. Sara had a triathlon there and this was my opportunity to be the supporting spouse for once. Long story short, I failed. I fell asleep sometime during the bike and Sara couldn't find me for a good half hour after her finish.
I'm not too upset about it because being a supportive spouse is about more than just race day. So I'll go ahead and take partial credit for Sara's 5th place in her age group and being the 5th woman overall in the swim.
Does my wife agree with this? Probably not, but it helps me sleep at night.
Comments