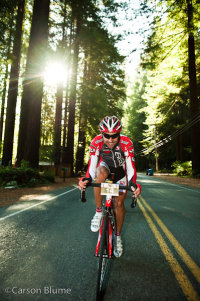 Levi's GranFondo
had all the food, people and activities of a great get together. There was a huge expo at the start/finish with food, vendors and music. On the course there were well stocked rest stops, a lemonade stand and even residents cheering us on. Things like this must be why I always think of Christmas when I'm Santa Rosa.
Anyway, the roll out was pretty mellow but once we reached King Ridge, Levi was done playing games. It only took a few, "I thought I was going steady" moments to whittle the lead group to about 15 guys. Levi then pulled off at the rest stop to do whatever it is celebrities do. The rest of us, we soldiered on.
A while later it was just Me,
Scott Nydam
,
Max Plaxton
and Kris Sneddon hanging out. But it was about to get serious. Carson Blume of
Women's Cycling Magazine
and taker of this photo, told us that
Mike Sayers
(Scott's director) was just 30 seconds back.
That's when Scott put on the gas. It took me a while to realize what was going on, but then it hit me. You don't want directors thinking they can hang with their riders as that would upset the whole social structure of professional cycling. Plus, can you imagine all the comebacks.
Social structure in tact, we finished the loop in 4:48, Scott was the first finisher, I was second. It seems like I can never get a break from the Santa Rosa training buddies. First it was the
Grasshopper
, then
Sea Otter
and now this. Plus I got the, "Looks like Scott Nydam and
Burke Swindlehurst
just finished" from the announcer. Yeah, I know I look like him, but he's 10 years older than me, so is it really a compliment?
I hung out for a while after the ride. Everybody seemed to be having lots of fun. I even ran into a guy on my ride today who wouldn't stop talking about it. I guess that means the event was a success.
Comments