It's like, you know like, not over
Monday, September 21, 2009 -
General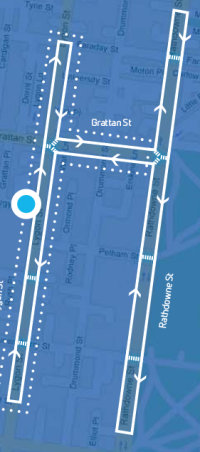 As you may have noticed I've been off the blog-dar for the last couple of weeks. Cycling cracked me and the cracks spread to the other parts of my life, so unprofessional.
Not to worry, I'm bouncing back for one more race,
The Herald Sun Tour
. It runs from Oct. 11 to 17 down in Australia.
It'll be 8 crazy days capped off with one of the biggest sell outs in modern sport; a circuit race in the form of an H, for the
title sponsor
.
Actually, I'm not sure why it's that shape, I can just assume that the idea for 4, 180s in 4km must have started with a "They'll give us money if..." and not a "Wouldn't it be cool if..."
Anyway, I'm still riding while the rest of the world goes into cross training mode. In fact I got an email today from
Jesse Moore
about his cross training and he mentioned you could "See more at 'Practice what I Preach' BlogSpot."
I checked out
his site
and was a bit surprised. Reviewing
Gossip Girl
episodes is cross training, since when? Jesse, I get the cross part, but where does the training come in?
Comments