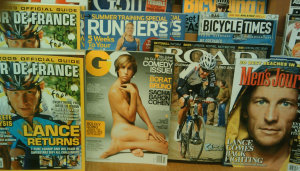 So I'm flying
Jet Blue
from Seattle to JFK watching the
Food Network
when a guy walks up to my seat, opens a copy of
Velonews
, points at an article and asks, "Is this you?"
I knew there was an article in the
August issue
but to see it for the first time like this, wow. Dave was nice enough to let me read the piece and I signed it for him.
That was the good part of the travel day. The whole
Bissell Team
was supposed to fly in for the
50th Annual Fitchburg Classic
in well... Fitchburg. There was bad weather in Boston and it messed with a bunch of flights.
Me and
Morgan
made it in 15 hours from home to hotel. Jeremy got on the plane in LA but they found something wrong soon after leaving the gate so he flew back home. The
Smash Brothers
only made it to D.C. and are driving (8 hours) here tonight.
And such starts July.
Comments