Survived another GC showdown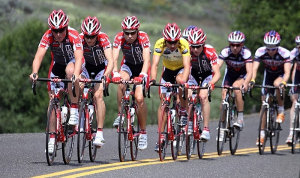 Sorry for the late post, we're staying with Dan and Julie and since it was Dan's birthday yesterday it was barbecue time.
My job for Stage 3 of the
Mt. Hood Cycling Classic
was to pull a Menchov and just stay glued to Chris Baldwin, number 2 on the GC. The
Bissell
team made that pretty easy for me.
Adam Switters
was in the break and off the front till about 3k. I was pulling for him, but it was not to be. Omer and Graham rode like mosters for over 80 miles to control him.
Morgan
went down with about 30 miles to go. A gust of wind while he was taking a pee. We didn't know if he was going to get back in, but with a new bike and a bunch of road rash he still finished 8th.
The real action started with 10k to go. Guys started attacking, but
Burke
was there to cover. I just followed him as he closed stuff down.
Baldwin started attacking with about 5k left and I just tried to stay with him. He didn't have much help and was stuck riding the front. The other two guys in our group were going for the stage win.
At the finish I took the inside line and Baldwin pressed me against the barriers. Live and learn I guess. I finished 3rd, Baldwin was 2nd and Rob Britton won. Due to the time bonuses I'm now only 13 seconds ahead of Baldwin with just the Hood River Criterium remaining.
It was pretty sweet riding with a team in a situation like this. Omer and Graham did an awesome job and Burke and Morgan took care of all the big decision making. I couldn't have done it without them.
Comments