Mt. Hamilton got Bisselled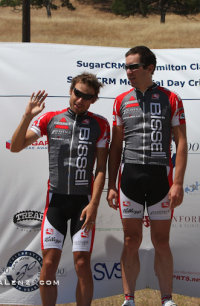 They don't call it the
Mt. Hamilton Classic
for nothing. The race goes up and over Mt. Hamilton and finished with a hard 40 miles into Livermore. The list of winners includes all the big names and
Bissell
showed up with 3 of them, me,
Ben Jacques-Maynes
and Eric Wohlberg.
The race started with a bunch of early attacking. I watched as Ben and Andy followed moves and when they came back I figured it was my turn. What seemed like a good idea at the time turned into a 45 minute suffer fest. After much pain I crested the climb about 40 seconds ahead of the field, taking the KOM.
Jackson Stewart (the
cyclist
, not
Miley's brother
) caught me on the decent and I just sat on his wheel. I felt bad, but Jackson is pretty high on my list of people not to go to the line with. In fact, that list is pretty long and includes just about everybody. Plus, Ben and Andy were in the field.
After it came back together we rode steady for a few miles before the attacking started again. There were a few good moves that I thought would stick, but they all came back. I took a solo flier with about 5k to go. I didn't know I was so close to the finish, I just figured I should counter whatever had just come back.
When I hit the bottom of the decent I realized there were only about 3k left and I had a gap that could go either way. Here is a transcript of my inner dialog during the last 3k.
3k - Damn it, it's a good gap, this is going to hurt
2k - You can do this, dig deep, dig deep
1.8k - Oh God, too deep, too deep.
1.75k - He he, girls tell me that all the time
1k - Maybe if I make an intense face, it will ease the pain
500m - Where is that f***in' finish line?
150m - It hasn't been 500m yet?
30m - Crap, someone is passing me
10m - Oh good, it was just Andy
So I finished 2nd, Andy won and Ben was 4th in the sprint. I was very happy with the race. I raced smart with my teammates and got the KOM.
Comments