Interview: BISSELL's Paul Mach, Part 1
Last weekend, at the conference championships, a lot of people were asking when
PaulMach.com
would do an interview with
BISSELL
Pro
Paul Mach
. So, while Paul was on his way to the
Tour of the Gila
I caught up with him to ask a few questions. Here is the first part of that exclusive interview.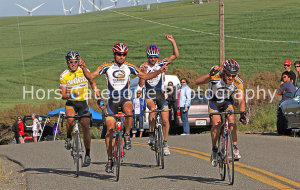 PaulMach.com:
What's it like living the pro lifestyle? Does your wife just cook for you, do your laundry and give you "massages?"
Paul Mach
No, it's not like that. My wife has a job that actually pays. She's a high school math teacher in West Sacramento. I do my part by vacuuming with our
BISSELL Healthy Home Vacuum
, among other things.
PM.C:
Are you still in school? How is that research going?
PM:
Yeah, I'm still in school working toward my PhD. I come home from a ride, eat a bunch of
Kellogg's
cereal and then get to work.
PM.C:
I just read on
CyclingNews
that
Levi
was ineligible to race at
Sea Otter
. What do you think about that?
PM:
I think the rules are a little weird, but it doesn't bother me and it was cool to have him there. If the jersey had been made by
Giordana
I'd be missing it, but I don't even think about it now. However, I'll raise a stink if they take down another one of
Scott's jerseys
to make room for it at the
Riviera
.
PM.C:
Speaking of great riders, have you ever been impressed by Phil?
PM:
Which one, Mooney or Mann?
PM.C:
Both. Ever impressed?
PM:
No.
That concludes part 1 of our interview with Paul Mach of BISSELL Pro Cycling. Return next week when we'll continue our conversation.
Comments