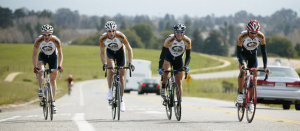 Last Sunday I raced UCSC's Hill Climb Time Trial up Bonny Doon Road. I arrived at 6:30 am and it was still completely dark out. This might have been why I was lacking "the fire." A note to promoters; if you need flashlights to see the release forms, your race starts too early.
After registering under the cover of darkness I went across the street to get a cookie and a scone for breakfast. This didn't help wake me up and the warm up was slow and unmotivated. I hit the hill at 7:49:30 and felt pretty average. The start was moved back from last year so if you do the math I ended up about 15 seconds faster.
Numbers were good all around: MA 1235, MB 3578, MC 127, MD 34789, WA 79, WB 1. Solid top 10 domination all around. Awesome.
It was raining at the top and even though Judd drove up our warm clothes we still froze on the way down. This made us (the Men's As specifically) even less motivated for the mysterious street sprints to come later. This was the first time for them here on the west coast. They ended up being two up sprints for about 400 meters in a single elimination bracket.
As we sat in Phil's car watching people warm up on trainers in the rain we talked strategy. It basically boiled down to you go early or you go late. Or in my case, don't really go at all.
Officially, I took it easy after having already had two good races. In reality, I got lit up and lost the first match up. My average power for the 400 meter sprint was not much more than that of the 20 minute time trial. But I did get a little taste of what
Zach
must feel every week on the race ride.
As for results, I know Phil got second. I think the Men's Bs had 3 in the top 4, but that is all I know. Not a bad showing. Overall it was a very good weekend for UC Davis. It should get even better when
Adam Switters
decides to show up.
Comments