Tuesday, February 17, 2009 -
General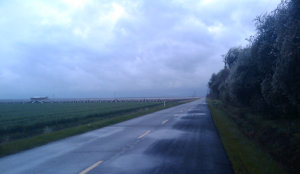 In honor of my teammates in the rainy
Tour of California
I went outside to ride. It really wasn't that bad after I spent the 30 minutes putting on all the right clothes. These
DMT Rain Covers
are awesome.
A little weekend recap. Last Sunday we went out to see the start of stage 1 here in Davis.
Sara
wanted to hear
King Wohlberg's
voice again so we awkwardly waited around the team car for like 5 minutes. It was so worth it.
On Monday the wife and I just watched the Tour on the laptop. She got all into it and is now following all the big names on
Twitter
. What a dork.
Comments