Mr. Big Stuff, Who Do They Think I Are?
Saturday, February 14, 2009 -
General
This whole
Tour of California
thing has been good to me. Over the last week I've received a lot of extra attention. Mainly because I look like some of the guys who are actually doing the tour. Let me share with you some of the more humorous incidents.
On Tuesday, out by Cardiac, some guy in a car pulled up to me and
Adam Switters
and asked for an autograph. He then pulled over and we talked for a few minutes. This was all good until it caused us to barely miss the race ride. We would have been fine but those amateurs cut it short because it "looked like it was going to rain."
Thursday, some guy named Bruce rolls up to me on a farm road south of
Davis
and says, "Wait, do I know you? Oh sorry you look like
Burke Swindlehurst
." I've actually heard that before. "Well tell him I said hi and good luck this weekend." He sped off before I could explain.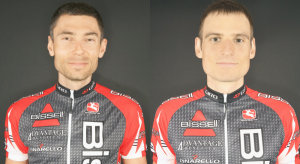 Then on the Wheelworks ride, on which I had a bunch of luck, some girl asked me if I was racing today. I said, "You bet! I got second on that sprint but Phil Mooney went over the center line so actually I won." Nothing like a 4.5 hour warmup to get those good sensations.
The best one happened at the prologue today. I talked to
Frank Pipp
after and he said, I kid you not, "There are a bunch of people on the course wearing Davis stuff and yelling
PaulMach.com
to all the
Bissell
riders." I'd like to thank the
Junior Team
for their support. Maybe one day it will actually apply.
There are only a few hours left before the public forgets about bike racing again. But the excitement hasn't died yet, I'll be trading my
Bissell
trading cards tomorrow at the start.
Comments