Looking Pro at the Intersquad Time Trial
Thursday, February 5, 2009 -
General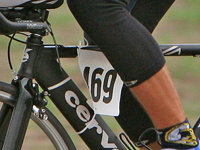 I'd like to share a few tips for the Intersquad Time Trial coming up this weekend.
First, there's no need for a warm up. A true pro, or a pro wanna be, should be able to win without one.
Next, make sure your number is aero. This includes stiffening it up with packing tape if we have frame numbers again. Don't worry, you'll have time (see the previous paragraph).
Finally, as a precaution, come up with a good excuse and set it up before the start. Dropping hints like, "I think I'm only going to go 85% today," or, "I'm pretty tired, I've had a tough week," is a good idea.
If you forget to setup an excuse but still need one afterward try, "a car pulled out in front of me and I had to back off," or, "my skewer was loose so I had to stop and fix it." If someone else has already used those just blame it on something mechanical, like shifting.
I hope these tips will help everyone have a good ride on Saturday. Or at least have a good reason why they didn't.
Comments