Tuesday, February 3, 2009 -
General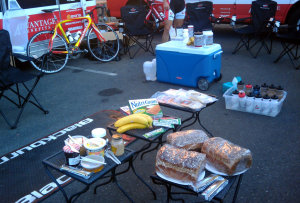 This is what we'd come back to after our rides.
Jono
, our soigneur, would have chairs, food and premixed recovery bottles all set out. I tried to get my wife to do this sort of thing but she wasn't into it.
Wohlberg
was also helping out. He spent to whole week not riding, but driving the car with food and spare wheels. Some think this might be the first time he's actually tapered so if you see him on a local group ride, watch out.
Comments