Thursday, January 29, 2009 -
General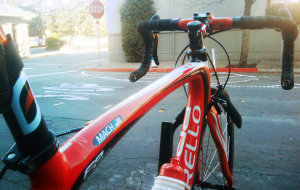 The name is on the bike so everything is official. In the past I've had to use white electrical tape and a marker. Who's Euro now Phil Mooney?
I got the
Prince
about a week and a half ago so have already ridden it a bit. It's really lively and responsive, just the way I like it.
Last weekend
I got a chance to try it on some of the sweepers on Highway 1 and it held solid. The cornering was fantastic.
The
Campy Record
is a bit of a change. It took about a week to get used to but now I love that thumb shifter. The 11-speed drive train feels really smooth and the shifting is quick. Now that it's been tuned up by our mechanic
Ben O.
, it's a real pleasure to ride.
What does
Bissell Camp
day 4 have in store? How about a ride in the hills, followed by some product fittings. It's unknown what the ride will actually be like, but I keep hearing "full gas."
Comments