Tuesday, January 20, 2009 -
General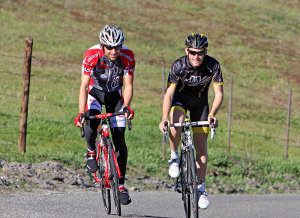 No, not in the Journal of Molecular Biology, the
Davis Enterprise
. Jason Eiserich has been lobbying hard to get an article about me and
Taylor Kuphaldt
in there, now it's finally happened.
Yesterday we went out with
Mark Adkison
and took like a thousand pictures for the article. The one that got published (above) in on Cantalow. Note that I'm riding in the big ring, like a true pro, while Taylor is struggling in a little gear. See Taylor, I told you it would matter. Here is
another picture
from that afternoon.
Unfortunately the article is not freely available online. However, if you are on the
UC Davis
campus or have
Newsbank
access you can read it
here
. You'll find it as the second "untitled" article in the January 20, 2009 issue.
Comments