Sunday, December 21, 2008 -
General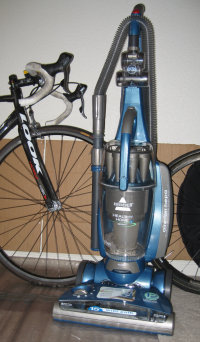 Get a
Bissell
vacuum cleaner. How can you compete with the big boys when you're living with a bunch of dirt that you're current vacuum deems too insignificant to deal with? Well, you can't.
I actually just got my
Bissell Healthy Home Vacuum
and you can bet the wife and I tried that thing out ASAP.
At first, I was in charge of the "Finger Tip Power Control" while my wife operated the "Quick Reach, Ready to use Hose." The "Deep Down Clean and Non-Stop Suction" was very nice but my favorite was using the "Telescoping Extension Wand" with the "Crevice Tool." The "Microban Antimicrobial Protection" came in handy and we quickly filled the "Easy Empty Dirt Container."
Needless to say, the thing is a top notch vacuum cleaner. The wife couldn't believe we got it for free. I quickly reminded her of my
previous post
. I also asked if this meant she was going to start vacuuming. She thought I was joking.
So go ahead and live with all that "Dust mite waste," but if you want to be competitive next spring, you're going to need a
Bissell
.
Sorry for the off color jokes, those were for Shawn and Tyler.
Comments