Glamorous-oh, it's Foxy Foxy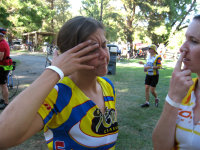 Rode the legendary
Foxy Fall Century
yesterday. A 7:10 ride time for 106 miles.
To the masters guys who all seem to have the same joke: I rode it with the wife, okay! We were only going 85% of about 85% and we went home to change before the dinner. That is why we didn't get there till after 5. But the dinner was good.
The ride really wasn't that bad.
Clare
even had time to pick her nose. I really enjoyed the wooden valley part, but the long flat sections leading up to it really got old, especially since I ride most of them regularly.
The bigger drama was that Sara also ran a half marathon this morning. She claims it was a scheduling mishap, but it won't take long for it to become my fault. Especially after the lactic acid sets in.
Comments