If you're under 18 please turn away
Monday, September 8, 2008 -
General
The picture of this bike might be too intense for some of my younger readers.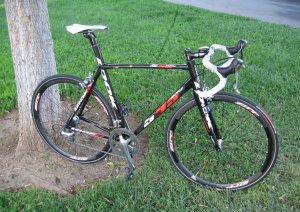 Because black is the new black, that's why I have a new frame. Actually it's because the old one got warrantied due to a small crack in the rear [pause] on the integrated seat post.
So the new frame is the Look 595 Ultra and it replaces my old
white Look 595
. It was a bit of a hassle to get everything changed over, but I'm not complaining. I get a new frame to enjoy during the high mileage off season and it's black. The color was the only problem I had with the old bike. It looked awesome when it was clean but got dirty in about 2 miles.
Look
claims the Ultra has 15% more lateral stiffness with no extra weight. I think I noticed it a bit on the
first ride
but I haven't had a chance to unleash my monster sprint yet (ever actually). We'll see if it affects ride quality.
The old bike was very good to me in many ways, I hope nothing changes with this new frame.
The down side is that now Andy, John, Max and Ozzy will have to find something else to make fun of me about. It's okay because they'll have plenty of time to think about it while riding their old ass Specialized bikes all winter long.
Comments