Ya hasta ride fasta, ta be masta of da Shasta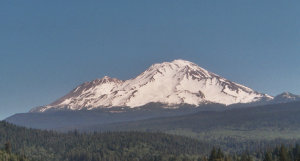 Got a new frame yesterday and spent the whole day putting it together. For a test ride I headed out to
Mt. Shasta
for the hill climb. It's about 14 miles with 4100 ft of elevation gain, ending at 7700 ft.
I was motivated by this on the
website
:
There is a raffle and $100 purse to the first rider to break the 1 hour mark.
I figured it meant that if you ride hard and win you get a 100 bucks. When I got to Mt. Shasta, I learned that the record was 1 hour 26 seconds held by
Justin England
. So "first rider" actually meant "first rider ever." Great.
Anyway, got in a warmup, sent the wife up the hill early and got ready for the start. The plan was to go out harder when there was more oxygen and then hang on for the second half. I kept on looking at my average mph to see how I was going. At 30 minutes I had a 15.0 mph average. After about 45 minutes I was going 12 and the road was flattening out. Every time I tried to pick it up the altitude would put me back in my place.
The finish was a little complicated, the one hour record line was at the old finish about 500 meters before the new finish. I was 59:30ish to the hour line and 1:01:22 to the actual finish.
I couldn't find a jersey to try out
Race Day Tip #1229
, sorry. Oh and skipping the sun screen is taking it a little too far. Just FYI.
Well, it was a long drive for a one hour time trial but I got a $100 check in the mail. Although I've heard that before, Tour *cough* de Nez *cough*.
More on the new bike later.
Comments