So about those Elite National Championships, basically it was a lot harder than I expected, a hot 115 miles with a 25.5 mph average.
Complete Results
.
At the start the officials announced that any group 3 minutes or more behind the leaders would be pulled. They started doing this in the U23 race earlier but had never told the riders, so it was a cluster. For our race, it just made it fast right from the gun. Since the course was relatively flat, this didn't really mess with my "get in an early move" race plan.
The race was 6, 20 miles laps on a hot dog course. Out and back with the start/finish in the middle. It had a couple of hills at the ends, but nothing I would consider serious.
Somehow the heat, hills, and constant attacking combined to allow groups off the front. About 1 lap in, 20 of us rolled off on one of the hills. We never had that much of a gap and people kept bridging up. Every time I looked around, the group was bigger.
Anyway, as the laps went on, the hills kept making selections till we had about 15 guys half way through.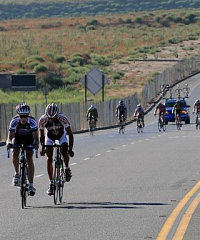 Here is Jesse off the front with Christian Walker at about 2.5 laps to go. I think I'm the last guy on the right. Moments after the picture was taken, I bridged up with Steve Reaney from Cal-Giant in tow. We stayed away for about half a lap.
When we got caught, Andy, James and Thurlow countered wisely. I was pretty gassed from the previous move so couldn't follow. A couple guys tried to chase but it wasn't enough. I helped a little but knew I would just blow myself up for the finish.
I sprinted at the end for 6th and I'm pretty happy with it. Riding solo against organized teams is hard, especially when no one stays around to feed you. Thanks to the Cal-Giant guys for helping me out.
The funny part was, last week I got made fun of for chasing down the Cal-Giant guys all the time and then getting out sprinted. This time I just sat in and let others chase only to get yelled at for sprinting. Can't please everybody I guess.
Quote of the race:
"If their balls were bigger than a mouse they'd be pulling more."
Comments