Turnarounds make Races Awesome, NOT!!!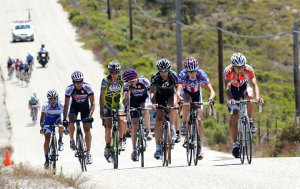 Over the years I've found there are two ways to win a race. One way is to beat everyone else to the line. The other is to convince yourself that everyone who finished ahead of you is either lucky, a moron, or you let them win.
So while the results say I got 8th at the Distincts last Saturday, I actually won and here's why:
Steve Reaney - Soloing to the finish is bad ass unless you have 20 teammates blocking for you, then it's just cool.
Andy J-M - Lucky to have like 20 teammates.
Adam Switters - Update your blog you moron!
Fabrice Dubost - Wasn't lucky and I didn't let him beat me, so he must be a moron.
Nate English - Consider it a gift, one former runner to another.
Roman Kilun - Friend of the Blog. You're welcome.
Andres Gil - Must be lucky or a moron, I'm not sure.
This is from the names found on
this picture
. There might be others, but you get the idea.
Anyway, Fort Ord course with two crazy turnarounds and the twisty climb wasn't selective enough because of a headwind. Cal-Giant had like 20 guys, so you guess how it played out: I spent a lot of useless time on the front. I got dropped the final time up the climb but caught back on because the group started playing games. Overall I had a good time.
Big props to Dan Sweet,
P.E.
for pulling back the Jesse Moore.
Amazing quote of the day:
"Well, we should have gotten 1-2, we had like 20% of the field."

Makes me all the more excited for Nationals and Utah.
Comments