Like a Pro-oh. Racing NRC for the Very First Time
Like a Prrrrrroooooo, with your road bike, next to mine. Okay, so it wasn't my first NRC race, but I don't consider hanging on for dear life at Sea Otter racing.
Saturday's
Tour de Nez
circuit race wound around the Northstar Village. I don't know exactly how to describe the course. It was about 1.75 miles 22 times. It had a decent climb, wound through the actual village on the bricks and had a bunch of fun turns.
The pace started off pretty high. I was just feeling out the course for most of the first half. Then
Graham Howard
from
Bissell
came rolling by me and I got on his wheel. I thought he was just moving up, but he hit the front and kept going.
We worked together for a lap and then a couple more guys joined us. We had about 12 laps to go at this point. I was working, but learning from the day before, I made sure to keep it within my limit. With about 7 laps left, like 4 Bissell guys rolled up to us and took over the work.
With a lap to go Jonathan Baker attacked and I chased it down. I was pretty tired after that. Roman rolled by me and looked calm, collected and focused. Then he goes and wins the thing. I ended up 6th. Our group was 30 seconds ahead of the next guy. That was enough to move me up to 8th in the GC.
There was definitely another level of team tactics going on in this race. All the pros had their heads up and knew exactly what was going on. Even the ones without radios. I was always a little behind, but played my cards a lot better than Friday.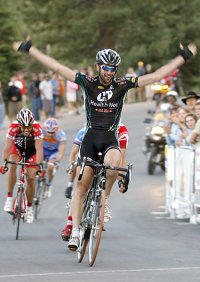 Props to my wife for fulfilling one of her goals for the weekend. Some random guy walked up to her and asked, "Who's that ZteaM guy in the break?" Sara answered, exactly like she'd practiced, "That's my husband, Paul Mach." This should keep me
"in"
for another couple of months or so.
Ever wonder what a cyclist's body really looks like? Go ahead drink it in. Even if you can only make out part of the right arm, it's still impressive.
Big thanks to the
ZteaM
for their support. Christian was all over it with cooking and bike cleaning.
Another big thanks to the
Tour De Nez
. It seemed like the whole race was just flying by the seat of its pants, but in the end it was awesome.
Comments