Even the Pros Thought it was Hard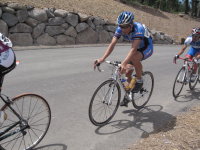 After the party in Truckee Thursday night it was a good thing we didn't have to race till 1:30. The course for yesterday's circuit race was simple. Think the University Road Race, but with a 6 mile loop. So 3 miles up, 3 miles down, at elevation, 10 times. Epic.
Every professional race needs an amateur whose sole goal is to see how long they can stay with the pros. In Stage 4, I was that guy. I don't think I followed all the proper pro peloton etiquette, but chalk it up to inexperience. I'll be better next time.
The race played out as you'd expect. They went hard up the climb and I just tried to stay with them. At some point they let
Eric Wohlberg
and a couple other guys get off the front and they were gone for good.
The steepest and most critical part of the climb was right before the feedzone, where Sara was helping out. Wishing to reaffirm myself as a worthy mate, I made sure to stay in the lead group through that section.
I finally lost contact the second to last time up the climb. I finished it off with
Corey Collier
from
Health Net
. He got me to the line and I got 9th. The time gaps were huge so that put me 9th in the GC.
Overall, I raced hard, which was what I wanted after the disappointing time trial the day before. I stayed in the top 10 a lot of the time. This was good and bad. On the one hand I didn't have to close any gaps. On the other, I was doing a lot of extra work and it caught up to me in the end. But, it's a lot easier to learn to race smarter than it is to race faster.
Warning
: Use of undefined constant REMOTE_ADDR - assumed 'REMOTE_ADDR' (this will throw an Error in a future version of PHP) in
/home/public/includes/poll.php
on line
39
PS. 6th in stage 5 today, moved up to 8th overall. More on that tomorrow.
Comments