I've Done 'er Solo. Twice.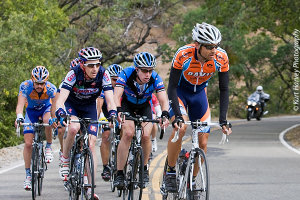 "The Viper" picked me up promptly at 5:30 am. It's crazy how much earlier that feels than 8:30; which is when I usually wake up.
We were headed to San Jose for the Mt. Hamilton Road Race. It's about 63 miles, with 20 miles up and over the mountain, followed by a rolly 40 miles to the finish. Last year I got dropped on the climb and road most of the race by myself. I was looking for something better this year.
At the start, everyone was watching the Cal-Giant boys and Jesse moved to the front to set the tempo. We sat on his wheel for a long while, people finally started attacking close to the top. I got in on it, but I wasn't too sure where the top was so kept it simple. Cozza, from Slipstream, was chasing me down and after a couple digs he said something like, "not so hot." Heads up Cozza, it gets hot when you're in the pain cave because you're closer to the center of the earth, duh.
Anyway, I attacked at about 2K from the top and held it for the KOM. This was cool because the KOM pays out more than the win and I was off the front for the decent so I could just keep it simple and not have to pull anything stupid just to stay on.
I hit the bottom and was surprised no one had caught me yet. As it was still 40 miles from the finish, I shifted into ME and waited to be caught. The miles clicked away and I was still holding about a minute gap.
Something was definitely not right in the chase group. I later heard talk of Cal-Giant causing the distress by not wanting to do all the work. At one point Ozzie tried to bridge and got to about 20 seconds. I was not looking forward to playing the "I have teammates chasing so I'm just going to sit on" game, so I went harder to avoid it.
With about 15 miles to go I was sure the group was not working together so I decided to go for it and proceeded to time trial straight through Suffer City and on to the finish. I barely made it, the chase group got motivated in the final miles and was only about 100 meters back at the end.
It was an awesome way to win. I'm honored to be added to the short list of people who've done the KOM/win double, which includes names like Ben Jacques-Maynes, Eric Wohlberg and Justin England.
The wife was happy I won some money and was all ready to go shopping. I had to remind her that she already bought all the clothes she ever wanted yesterday. It's funny how quickly they forget.
Comments