A Crit in Berkeley on 4/20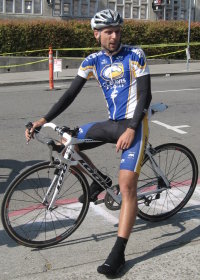 Well it looks like I have some disappointed fans after my last post so I've included a picture of me with hairy legs to try and win you back. It is true that the maintenance will be a problem. I shave my face every 2 weeks so I'm less than excited about shaving my legs more than that.
I've been putting off this race report because I don't have anything interesting to say. It was 70 laps around a block in Berkeley with one corner at the top of a hill and one at the bottom.
I started in the back because I got to the line late. Then moved up slowly over the next 5 or 6 laps. Then covered some moves. Then at about 35 laps in, Tyler went off the front and then I spent the next 30 laps covering moves. Then it was kinda fun. Some Stanford guy would go hard up the hill, blow up and pull off. Then I would "pull through" and then coast down the hill to lose all the time he made up. Then another Stanford guy would give it a try.
With about 4 to go it looked like Tyler was going to get caught so I bridged up. That excited the field and they caught us with 2 to go. I was a little tired from the hard effort and ended up 11th in the sprint. Shawn won and swept the weekend.
This result makes Davis 9 for 12 in Collegiate Races this season. That's right, 3 different UC Davis riders have come together to win 9 of the 12 Men's A races we've entered. That's pretty cool.
Thanks to
Greg Moy
for this photo.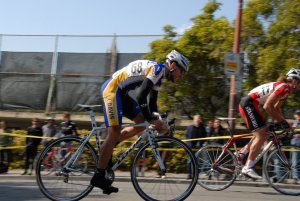 Comments