Just Signed the Paperwork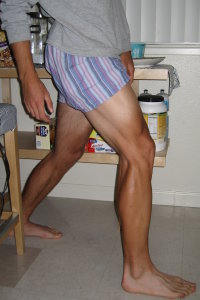 I've officially sold my soul and joined the ranks of "Want to be Euro Cyclist;" a group including both amateurs and domestic pros.
That's right, I shaved my legs. It all happened last night after the wife had downed some Mike's. She was traumatized at first but is learning to accept that her husband now has the legs of a woman.
It took quite a while, but to quote my wife, "I like to take my time when I have something huge in front of me." Yep, that's what she said.
I've included a picture as proof that I have shaved at least one leg. I assure you I shaved the other one as well.
Comments