Sunday, February 24, 2008 -
General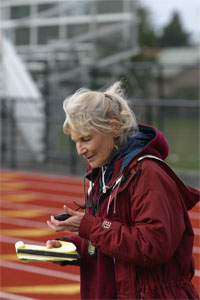 Found out this week that my old track coach, Doris Heritage, is retiring after 30 years. I was there for 5 of them.
Doris is off the charts: 5 time world cross country champion, member of like 11 hall of fames and pioneer of women's athletics. She could always do more pull ups than me (I maxed out at like 12) and her driving is legendary.
For sure SPU track will be different without her, but they're in good hands with Erica.
Thanks Doris
Find out more at
spufalcons.com
Comments